I was sitting on the back of the boat in all black wearing a full steamer wetsuit, fins, snorkel and mask. There was an unseasonably cold wind blowing in from what felt like every direction. Winter in Tonga is usually still bikini weather, but apparently this was the coldest winter they'd had in almost 10 years. I overheard a local say it was the first time they'd worn pants… ever. One of our guides was on the roof of the boat scouting for whales and the other was on a two-way radio getting updates from the other boats as we headed out deeper into open ocean. A million thoughts were running through my head and I forgot to Google if a whale had ever swallowed anyone. My internal dialogue was interrupted with the sighting of a mother and her calf and two seconds later I was in the water where my thoughts became silenced by one of the most incredible sights I've ever seen.
Photography by Michaela Skovranova and Scott Portelli from Swimming With Gentle Giants.
The Kingdom of Tonga is an archipelago of 176 islands in Polynesia that's one third of the way from New Zealand to Hawaii. Just like its neighbouring islands of Fiji, Samoa, New Caledonia and Vanuatu, Tonga is known for its palm-fringed beaches, crystal clear ocean, lush tropical jungles, super friendly locals, deliciously fresh seafood and exotic island fruits. There are secret beaches to discover, hidden underwater caves to explore, and incredible sunrises and sunsets to enjoy – but that wasn't why we were in Tonga. We were there to take part in a once-in-a-lifetime experience – swimming with humpback whales.
Every year between May and October, humpback whales make their way from their feeding grounds in Antarctica, along the New Zealand coast to the warm waters surrounding the Vava'u Islands in Tonga to court, mate and give birth. Back at home in Australia you can watch these majestic animals frolic from the beach, a cliff or your boat, but Tonga is one of the few places in the world where you can actually get into the water with humpback whales and swim a metre away from them.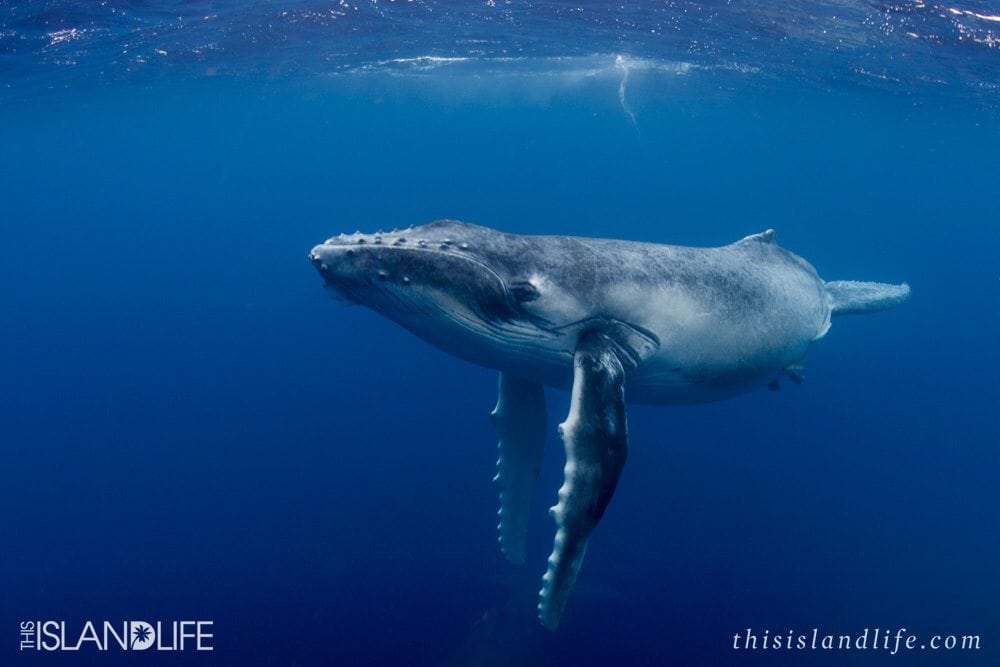 When I first touched down in Tonga to take part in this incredible adventure, I didn't know what to expect. I wasn't sure how many whales I'd see or how close I'd be able to get to them. All I knew is that if it was anything like when I swam with a turtle in Queensland, I was in for the best week of my life.
I have some pretty epic friends and one of them just so happens to run one of the best whale swimming operations in Tonga. Scott Portelli is an award-winning wildlife photographer with a love of underwater adventure and photography – he first visited the islands of Vava'u 13 years ago to photograph the migration and had such a profound experience, he set up shop. His business Swimming with Gentle Giants is a boutique tour that caters to photographers and marine enthusiasts.
Check out our interview with Scott Portelli.
While many of the other tours over in Vava'u take large boatloads of people, Scott's is the only one that takes just four. In Tonga there are rules to protect the humpbacks as they move around the shallow waters – you can only have five people in the water at any given time – four guests and your guide. That's why Scott's tours are so unique – they are the only ones where you don't have to take turns in the water with the other guests – you can literally spend all day, every day in the water with the whales.
My first encounter with humpback whales was pretty unusual. I slid off the back of the boat into the water and started following my guide. I didn't know how far away the whales were so I just focused on not losing the group. The water was clear, but it was deep – I couldn't see anything except an abyss of bright blue ocean. Then I saw them. Two shadows on the ocean floor. As I got closer their silhouettes got clearer – we were right on top of a humpback whale and her calf. I could see the baby swimming around its mother, nuzzling her. It was absolutely mesmorising. Until I realised the baby was getting closer. I blinked a few times to make sure it wasn't an optical illusion and holy shit, the baby whale was even closer. This thing was like a mini missile heading for the surface and we were right in its path. I gave my guide 'crazy panic eyes' through my mask, but he was calm and motioned for me to stay put. Baby whale was right underneath us and coming up fast. Next thing we knew the baby whale shot up to the surface and breached about a metre away from our faces.
A four tonne baby whale face planting the water right in front of you is not something you see everyday, even for the guys running the tour. Humpback whales usually come up to the surface at a more leisurely pace to take breaths and don't usually breach around humans. While the baby whale was a pretty full on encounter for my first experience, it was way more intense when its mamma came up from the ocean floor. A female what weights around 40 tonne – that's the size of a small jet plane coming up alongside you.
The more time you spend in the water with these animals, the more comfortable you become. They are completely aware of us being in the water with them, and will navigate their movements accordingly. When the females are swimming with their calves, that's when you want to be in the water. The male whales, which are referred to as 'escorts' (such a good name), only appear when it's time for them to relocate the female and her calf. I assumed that the escort would be the baby daddy and was all confused as to why there were sometimes two or three escorts on the scene. Turns out they are no relation to the baby whale – they are there to court the female in the hopes of fathering her next calf.
One of the coolest things about the escorts is their singing and you can often hear them before you see them. Every year on their way from the Antarctic, they learn a new song for mating season. By the time they reach Tonga, they are all singing the same song – one that is completely different to the song they were singing the year before.
When we weren't swimming with whales (which was 90% of the time) we spent our days exploring underwater caves and jumping off the boat. There are so many amazing areas to explore by boat and after coming to Tonga for 13 years, Scott knows all the best spots. If you want to know more about Scott and his epic whale swimming tours, check out my interview with him. And if you're thinking about heading over to Tonga next year for the 2015 season, don't hesitate. Swimming with humpback whales is truly one of the most special and unique travel experiences in the world.
What we did:
The Swimming With Gentle Giants tours run in 7–9 day blocks during August and September and includes lunch, photography and research advice (including guidance in the water), daily snorkelling on reefs and in caves. Airport transfers in Vava'u. Prices start at $3,165 per person. There are still spaces left for the 2015 season so get in quick! Details here.
How to get there:
Getting to Vava'u is not easy, but that's all part of the adventure. Vava'u is the northern most group of islands in the Tongan archipelago. To get there you need to fly to the main island Tongatapu, and then get a connecting domestic flight to Vava'u. Currently Real Tonga, is the only domestic airline operating in Tonga. You can book directly with Real Tonga through their website. Details here.
Where to stay:
Luxe: Mystic Sands – this is the most premium accommodation on the island – the waterfront property means you can whale watch from your pool.
Mid-range: Tongan Beach Resort – the resort also has a great restaurant and a beautiful beach and gardens – it was the location for our bikini love shoots.
Budget: Backpackers Vava'u – located smack bang in the middle of town so you can stock up on supplies at the local farmers markets.
Questions? Ask us below 🙂