Photography by Scott Portelli and Michaela Skovranova.
In August this year, I went on an incredible trip to the remote Vava'u islands in Tonga to take part in a once-in-a-lifetime experience – swimming with humpback whales. This trip was all thanks to one of my dear friends Scott Portelli – an award-winning wildlife photographer who seriously has one of the best jobs in the world. He follows his passion of underwater wildlife photography around the world and between August and September each year, it takes him to the warm waters of Tonga, running whale swimming tours that cater to photographers and fellow marine enthusiasts. His business Swimming With Gentle Giants is just as unique and the incredible creatures he documents. So at the end of another exhilarating day in the water, we sat down with Scott to get the low down on his inspiring life under the water, behind the lens.
Check out my adventures with Scott in Tonga and read his interview below: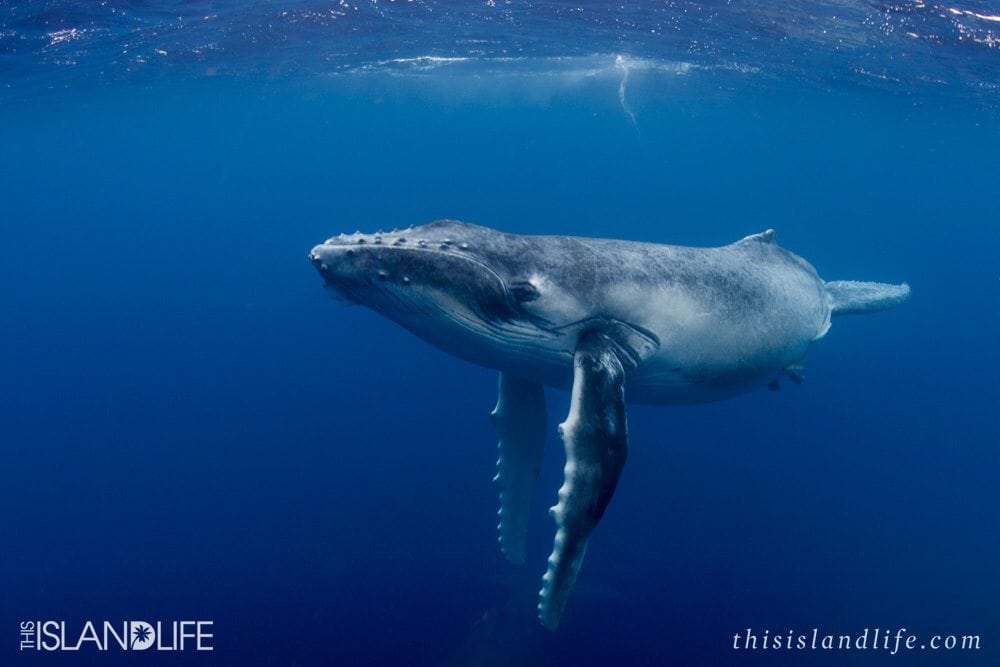 TIL: You've caved a pretty enviable lifestyle for yourself, spending three months of every year in Tonga swimming with humpback whales. What was it that drew you to the island of Vava'u in Tonga to swim with these incredible creatures?
Scott: The simplest answer is that the whales are what drew me to Tonga and then soon after I discovered how amazing a place it is. The beautiful people, the picturesque islands and the fact that I could get in the water with whales ticked all the boxes.
TIL: Your whale snorkelling tours are pretty unique, can you tell us why?
Scott: I have been personally taking people to swim with humpback whales for over a decade and I think the thing I have learned is that people want that personal experience, that's why my tours have a maximum of four people, so you're in the water with the whales every single time.
TIL: Can you give us a run down of a regular day out on the water on one of your tours?
Scott: Each day starts with us picking up the guests from their resort by boat, we head out into the islands and start the search for whales. It never takes too long as there are plenty of whales this time year. Once we find a whale that allows us to get close, we simply slip into the water and let the whales do the rest. Often we are face to face with a 40 tonne humpback whale. It is humbling to say the least.
TIL: What kind of diving experience do you need to have to go swimming with whales? Do you need to be fit?
Scott: We are only snorkelling with the whales so there is no need for any diving certification. As long as you can swim and are fairly fit, swimming with whales is easy.
TIL: Is there anywhere else in the world where you can get this close to humpback whales?
Scott: There are very few places where you can get in the water with humpbacks, but Tonga is special in many more ways because of the people and pristine islands.
TIL: Tonga was freaking cold when we were there a few weeks ago and we heard some of the locals saying it was the coldest winter on the islands in a really long time. Some people even claimed to be wearing pants for the first time. Has this affected the whales at all? Have you noticed anything different this season?
Scott: The water has been a bit cooler this year than previous years but the only noticeable difference is that the whales seem to be a lot closer inside the islands, whether coincidence or something to do with the weather it is hard to say, but the one thing is we have had some amazing close encounters with mothers and calves.
TIL: You've still got another month over there, but what's been the highlight of this season so far?
Scott: There have been so many highlights I don't know where to start! I had this one young calf that one morning suddenly shot up from about 15 metres below and breached less than a metre in front of me, it was the most amazing thing and I wasn't expecting it and wasn't even prepared with the camera. But then it went back down to the mother and I was crossing my fingers it would happen again and suddenly the baby shot back up towards me and breached again even closer, this time I caught the whole thing on video. I love these unexpected moments and its one of the reason I do this. You never feel afraid at any time as you know there is no chance they will hurt you, they are so agile even within metres of you. I don't think too many people can say they love it when a three tonne baby whale breaches less than one metre from them.
TIL: Since coming back from your tour, I've been having trouble putting the experience into words – it was that amazing. Can you tell us about your first time in the water swimming alongside humpback whales?
Scott: My first time in the water was surreal, I was floating over the top of a large humpback whale that was resting about 10 meters below, all of a sudden the whale started to ascend and I thought to myself, "I am about to be on top of a whale" but the whale glided below me with agility and grace, it was then I learned how amazing these creatures are.
TIL: Your tours are incredibly popular and have been known to book out 18 months in advance. Do you have any spaces available for the 2015 season or do we need to be planning for 2016?
Scott: I definitely have places for 2015 and will be running tours for the whole of August and September. We only have a maximum of four people on our tour, because by law you can only have four people and a trained guide in the water at any one time. Some operations take out six, eight or even 12 people, which means groups need to rotate and take turns with the whales. I think this is one of the things that separates us from a lot of whale swimming operations in Tonga.
TIL: In between running the tours, this year you've started a project called the 'Tongan Fluke Collective'. Can you tell us a bit more about it?
Scott: A whale's tail is called a fluke and just like a human fingerprint, each pattern is unique and used to identify whales. The Tongan Fluke Collective (TFC) aims to utilise photographers visiting the Kingdom of Tonga and photographing humpback whales during the breeding and calving season. We want to build up a comprehensive catalogue of the whales coming to Tonga. I have got a number of photographers onboard and hope to keep adding more photographers to the TFC.
TIL: What's next for you after Tonga? What adventures do you have planned post whale swimming season?
Scott: There are always adventures on the boil but I think the next major trip is Antarctica to see the emperor penguins. It is the most remote untouched place on the planet and words can't describe how amazing it is to be in such a place. Stay tuned for the photos and video.
TIL: And finally, give us your best whale fact?
Scott: The whale pectoral fin is the longest in the animal kingdom and has exactly the same amount of bones as the human hand. So they are closer to us than you think ☺
Book a tour:
The Swimming With Gentle Giants tours run in 7–9 day blocks during August and September and includes lunch, photography and research advice (including guidance in the water), daily snorkelling on reefs and in caves. Airport transfers in Vava'u. Prices start at $3,165 per person. There are still spaces left for the 2015 season so get in quick! Details here.
How to get there:
Getting to Vava'u is not easy, but that's all part of the adventure. Vava'u is the northern most group of islands in the Tongan archipelago. To get there you need to fly to the main island, Tongatapu and then get a connecting domestic flight to Vava'u. Currently Real Tonga, is the only domestic airline operating in Tonga. You can book directly with Real Tonga through their website. Details here.
Where to stay:
Luxe: Mystic Sands – this is the most premium accommodation on the island – the waterfront property means you can whale watch from your pool.
Mid-range: Tongan Beach Resort – the resort also has a great restaurant and a beautiful beach and gardens – it was the location for our bikini love shoots.
Budget: Backpackers Vava'u – located smack bang in the middle of town so you can stock up on supplies at the local farmers markets.
Questions? Ask us below 🙂