With another epic year of travel behind us, it's time to reminisce back on our island hopping adventures. Take a look at our top summer bikini destinations from 2017 where the sun is hot, the water is warm and swimwear teeny tiny.
1. CALA GOLORITZÉ, SARDINIA – ITALY
My trip to Sardinia was a surprise. After Greece I knew we were flying into Bergamo and then out of Rome two weeks later, but my boyfriend Jason was keeping where we were going in between secret. We road tripped to Verona and Venice and I thought that was the surprise. I'd shown Jason a photo on Instagram of a beach in Italy months ago – I didn't know it was in Sardinia. He researched where the photo was taken and surprised me at the airport as we left Venice. The beach was Cala Goloritzé – it has incredible limestone formations and the most crystal clear aqua water you've ever seen. It was one of the highlights of our European itinerary and we're already planning to go back again in 2018. Read more.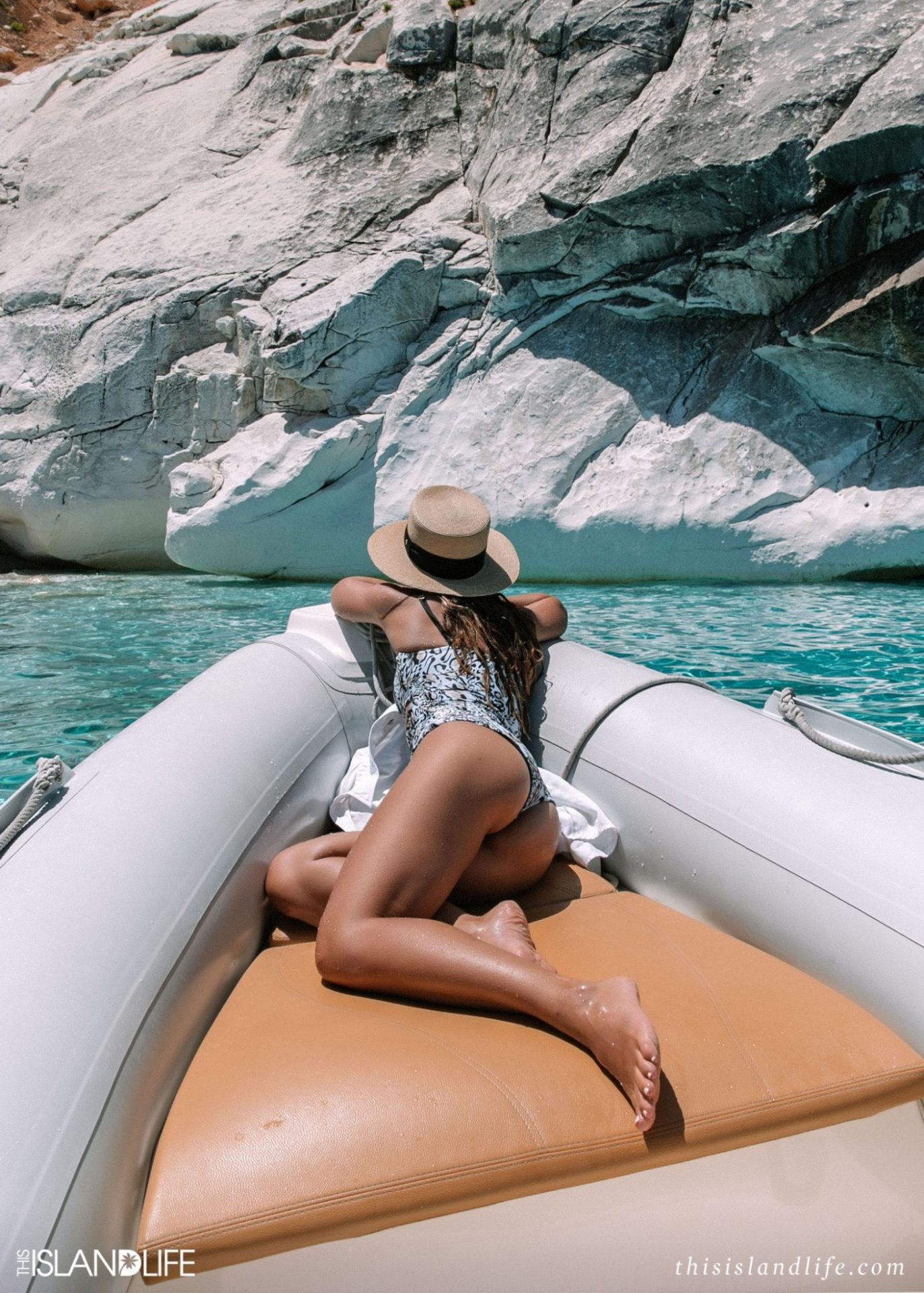 2. PIRATES BAY, ITHACA – GREECE
I'm not sure if this beach is actually called 'Pirates Bay' – we stumbled across this deserted beach one day while out on our little boat. We thought it was totally undiscovered until a huge day cruise boat pulled up next to us and hundreds of tourists jumped into the ocean surrounding our boat. The captain was making the most of his loudspeaker and announced that this was 'Pirates Bay' and that it was two for one happy hour at the bar!
The Ionian Islands hold a special place in my heart. I'm actually half Greek – my grandparents are both from a beautiful island in the Ionian Sea called Ithaca and one of my great grandfathers was from a little port town in the north of Kefalonia called Fiscardo. This trip was my first time to Greece – I just couldn't go another year without seeing my family's home island. I've spent my whole life hearing about Ithaca, so to be there jumping into the salty sea for the first time off its coast was a moment I won't forget. Read more.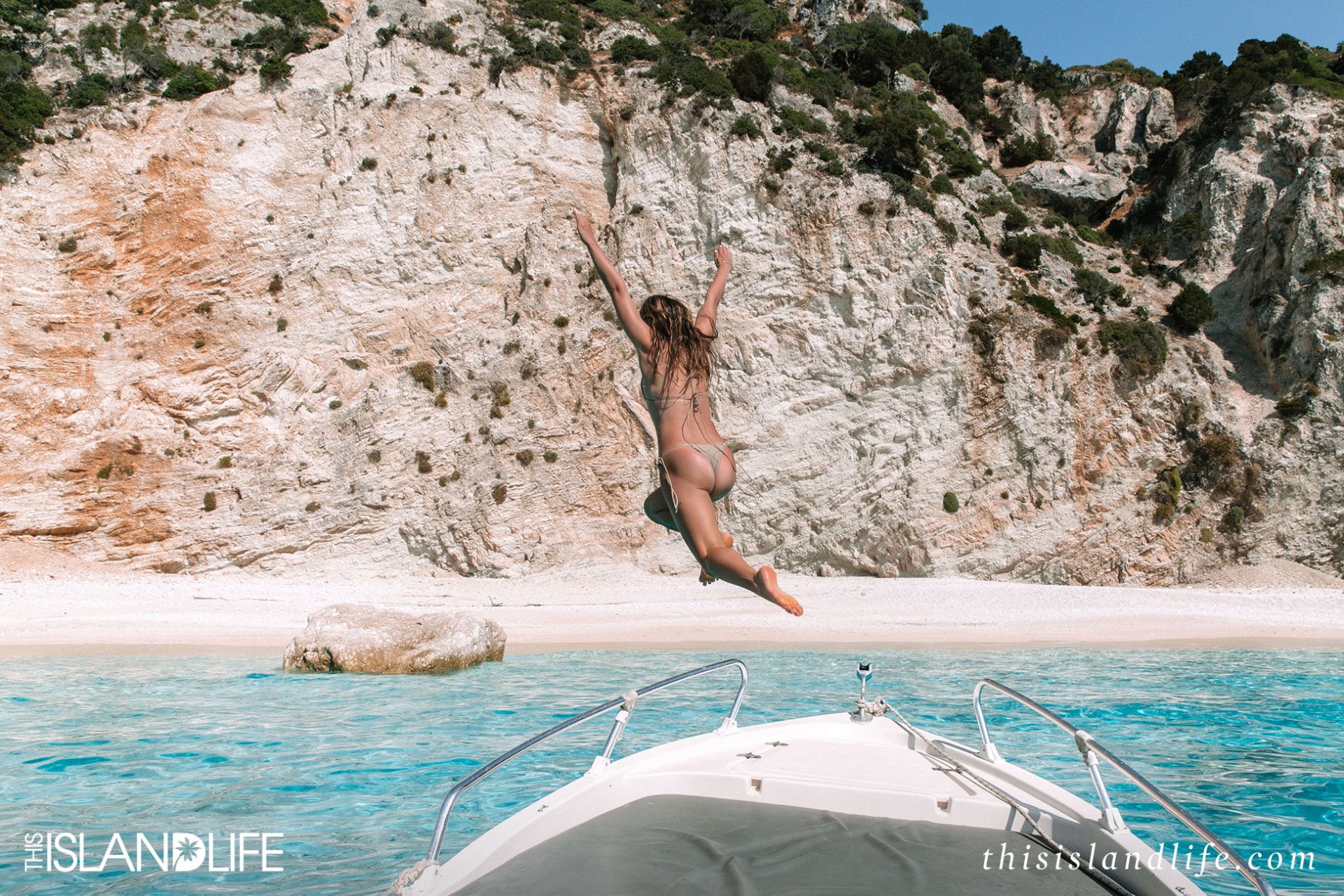 3. VILLINGILI ISLAND, THE MALDIVES
I knew the Maldives would be beautiful, but I was blown away with just how picture perfect this island destination really was. In the Maldives, the luxury resorts are all on their own private islands. I had the option of reviewing a few different resorts, but in the end, I decided on the Shangri-La's Villingili Resort & Spa. It's a 1.5 hour domestic flight from Malé International Airport and the only Maldivian resort located south of the equator, making it a super exclusive destination. The overwater villas on Villingili are enormous (even by luxury standards) and are some of the biggest in the Maldives. The island also has two kilometres of powdery white sand beach, and a lush palm tree jungle you can cruise through on your bike or in your golf buggy.
4. MYRTOS BEACH, KEFALONIA – GREECE
This spectacular beach is on the island of Kefalonia. We spent a day here before heading up north, but I loved it so much we ended up coming back a few days later for another sunset and more beach time. The water is incredible clear and the brightest shade of aqua – these photos have hardly been edited but we did have the perfect light for the shots we took on the beach. Sometimes the best colours come out on overcast days. I thought this particular day was a write-off for photos – there were so many clouds! But the cloud cover acted as a natural diffuser – so when the sun peeked out from behind the clouds – the water illuminated to an  iridescent shade of aqua that I hadn't seen on the most picture perfect sunny days. Read more.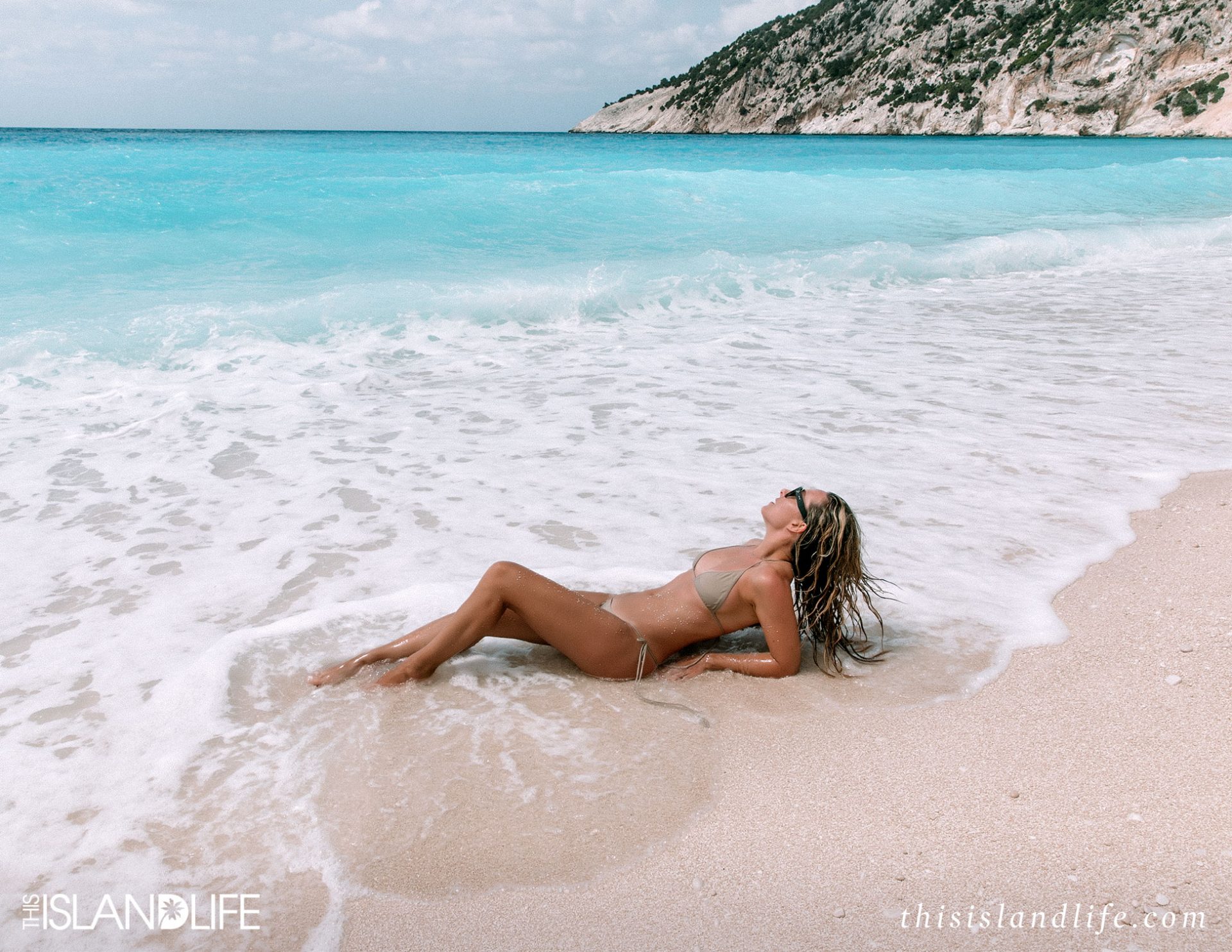 5. AMALFI COAST, ITALY
We only had one day to soak up the Amalfi Coast, but I made the most of it. This was our last swim of the day before heading back to Pompeii. We spent the day exploring the town and its beaches – and buying as much Italian linen clothing as I could carry. While the Amalfi Coast is expensive, the unbranded linen pieces you can pick up are super cheap in comparison to what we pay in Australia for Italian linen.
6. DALAWELLA BEACH, SRI LANKA
This palm tree (and its rope swing) is one of the most instagrammed spots in the whole of Sri Lanka. Head to Dalawella Beach and you'll find it out the front of a little guesthouse called Dream Cabana. We made our way to the tropical beaches on Sri Lanka's south coast after a few weeks of exploring the island's incredible UNESCO sites and national parks. While I was swinging on this rope in the rain looking out at the ocean, a huge turtle swam past. There was no better sign that I was where I was supposed to be. Read more.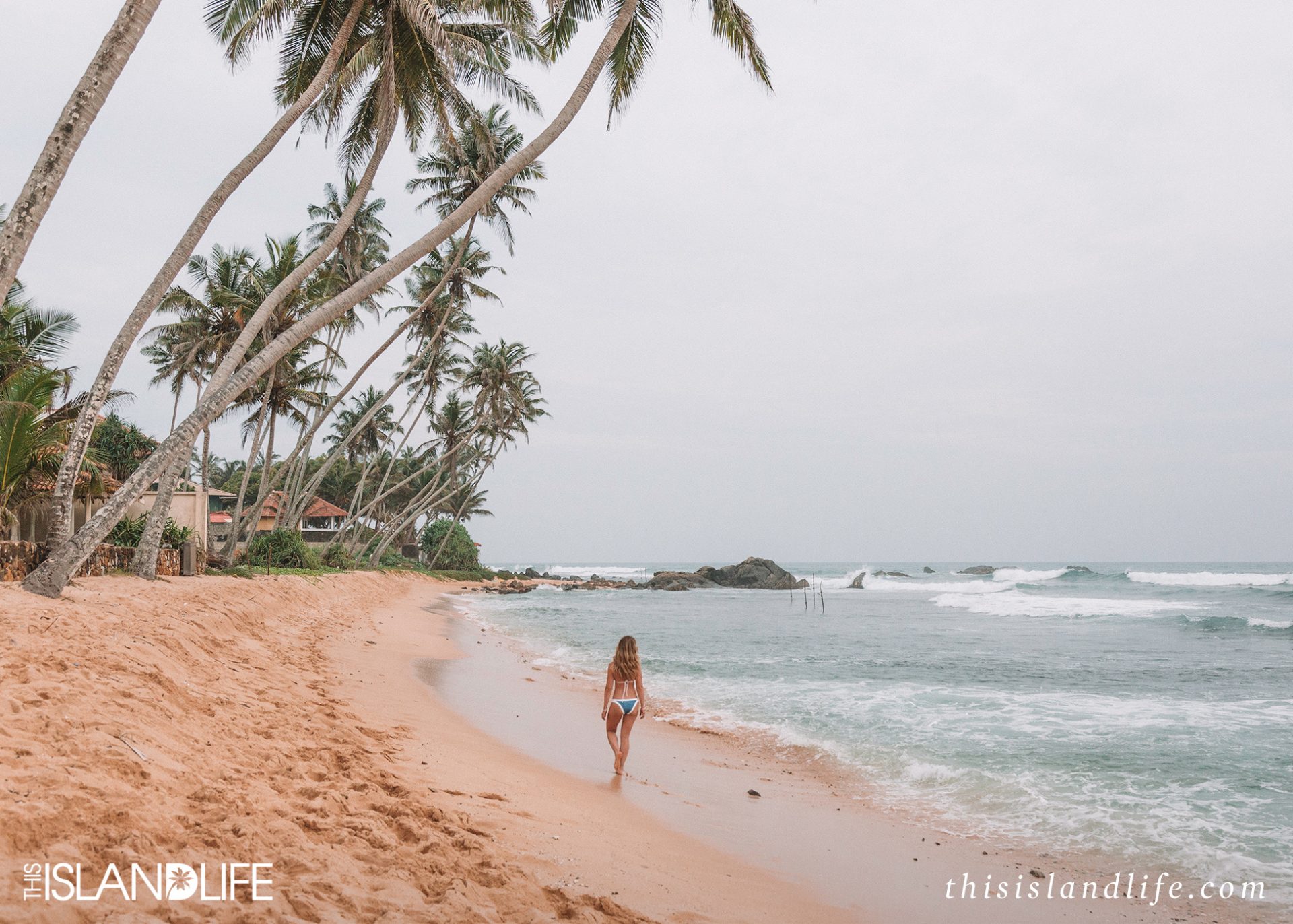 7. SHIPWRECK BEACH, ZAKYNTHOS – GREECE
You've probably seen this beach on Instagram before, but from the view point at the top of the cliffs. While it's beautiful and the water is an iridescent aqua, it was hectic busy the morning we visited! If you've been island hopping in Thailand, you'll know what I mean when I say it's Phi Phi Island in peak season tourist levels busy. Day cruise boats were pulling in every few minutes with hundreds of fellow tourists descending onto the shore. Photos and selfies were going on everywhere – I literally couldn't walk more than a metre without accidentally photo-bombing someone's shot. Despite the crowds, the beach and its shipwreck are still an incredible sight to see from the sand and sea – a totally different experience to seeing it from the cliffs above. Read more.
8. POSITANO, ITALY
This was my first time in Positano, and I just couldn't get over how every scene looked like a picture perfect postcard. It was super busy down near the beach, so we wandered up as high as we could go to share a carafe of chilled Chardonnay and this view. From the sand the water looks quite dark from the charcoal-coloured pebbles, but once we got up high, the ocean sparked in the most amazing aqua hues.
9. SKALA, KEFALONIA – GREECE
Even though we were there in peak tourist season and Skala is a popular beach town, there are always plenty of sun beds and sand to go around. Skala is a great base if you want to do a day cruise to Ithaca and Zakynthos, which is exactly what we did. This was our last morning in Skala so after breakfast we headed down for a quick swim (and beer!) before road tripping up north. It seemed like the whole town was out island hopping for the day, so even though it was almost 10am when we took this shot – there was hardly anyone else on the beach.

10. BLUE CAVES, ZAKYNTHOS – GREECE
When you're island hopping around the Ionian Islands, you quickly get used to seeing beautiful scenes around every corner. I didn't put my camera down the entire time on this boat trip around Zakynthos. The Blue Caves and rugged coastlines were absolutely spectacular. We did this as a day trip and stopped here after our visit to Shipwreck Beach.
11. FRIKES, ITHACA – GREECE
This tiny beach was so cute and a much needed rest spot on our day out on the boat. We stopped in the  port town of Frikes and this beach was right next to all of the restaurants. Perfect for a quick swim and fresh seafood lunch.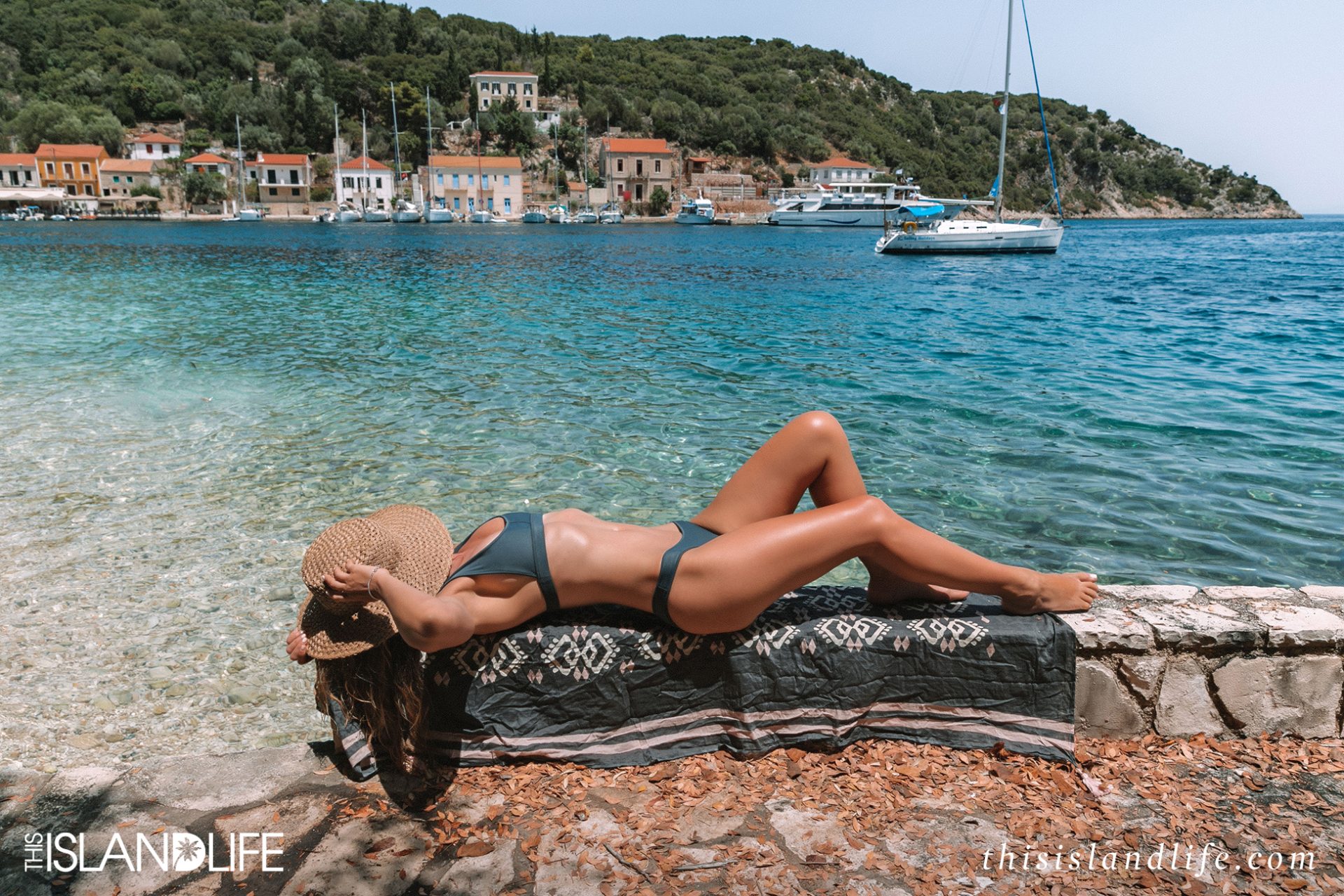 SaveSave
SaveSave
SaveSave
SaveSave
SaveSave
SaveSave
SaveSave
SaveSave
SaveSave
SaveSave
SaveSave
SaveSaveSaveSave
SaveSave
SaveSave
SaveSave
SaveSave
SaveSave
SaveSave
SaveSave
SaveSave
SaveSave
SaveSave
SaveSave
SaveSave
SaveSave
SaveSave
SaveSave
SaveSave
SaveSave
SaveSave
SaveSave
SaveSave
SaveSave
SaveSave
SaveSave
SaveSaveSaveSave
SaveSave
SaveSave
SaveSave
SaveSave
SaveSave
SaveSave