You're probably thinking my hair doesn't look that damaged or bleached, but it's been eight weeks, four haircuts, and two colour corrections since my hair disaster. My (now ex) hairdresser left the bleach on my hair too long and as a result my hair is now in the worst condition it's ever been in. What I thought was a regular balayage touch up, turned into a festival of the bleach. My entire hair ended up being bleached – there was not one single strand of my natural hair colour left. Plus, my hair was bleached right up to the roots in some parts, with weird orange blobs of colour throughout, including a horrible orange 'smudge' on the roots around my face. Why my hairdresser decided to do this, I will never know.
The hair on my neckline and around my face was the worst – these parts of my hair went past the point of blonde and turned a light shade of purple. Some sections of hair around my neckline snapped to be about three to four inches shorter than the rest, and on one side around my face my hair snapped off to just an inch long. The ends of my hair felt like they had been burnt – it didn't even feel like hair anymore and the rest of my hair felt like straw. It was a hair disaster of epic proportions.
My hairdresser tried to fix it a few days later, but it made little difference. Even though the salon manager refunded my appointment and was extremely apologetic, I knew it would take years to get it back to what my hair looked like before that appointment. My hair was so badly damaged and poorly coloured, I didn't want to leave the house. After intensive hair salon research, I found an amazing colourist just outside of Sydney. Even after one appointment he was able to dramatically improve the colour and health of my hair. And now after seeing him a second time, my hair is starting to get some of its natural curl back. It's now a lot darker and shorter, and doesn't curl naturally like it used to, but it's starting to come back to life.
I'm not going to go into who ruined my hair and the salon that it happened at, although my regular followers will know from my Instagram Stories. I don't want to use this platform as a negative space. Instead I want to focus on the solution and the amazing products that are literally saving the life of my hair.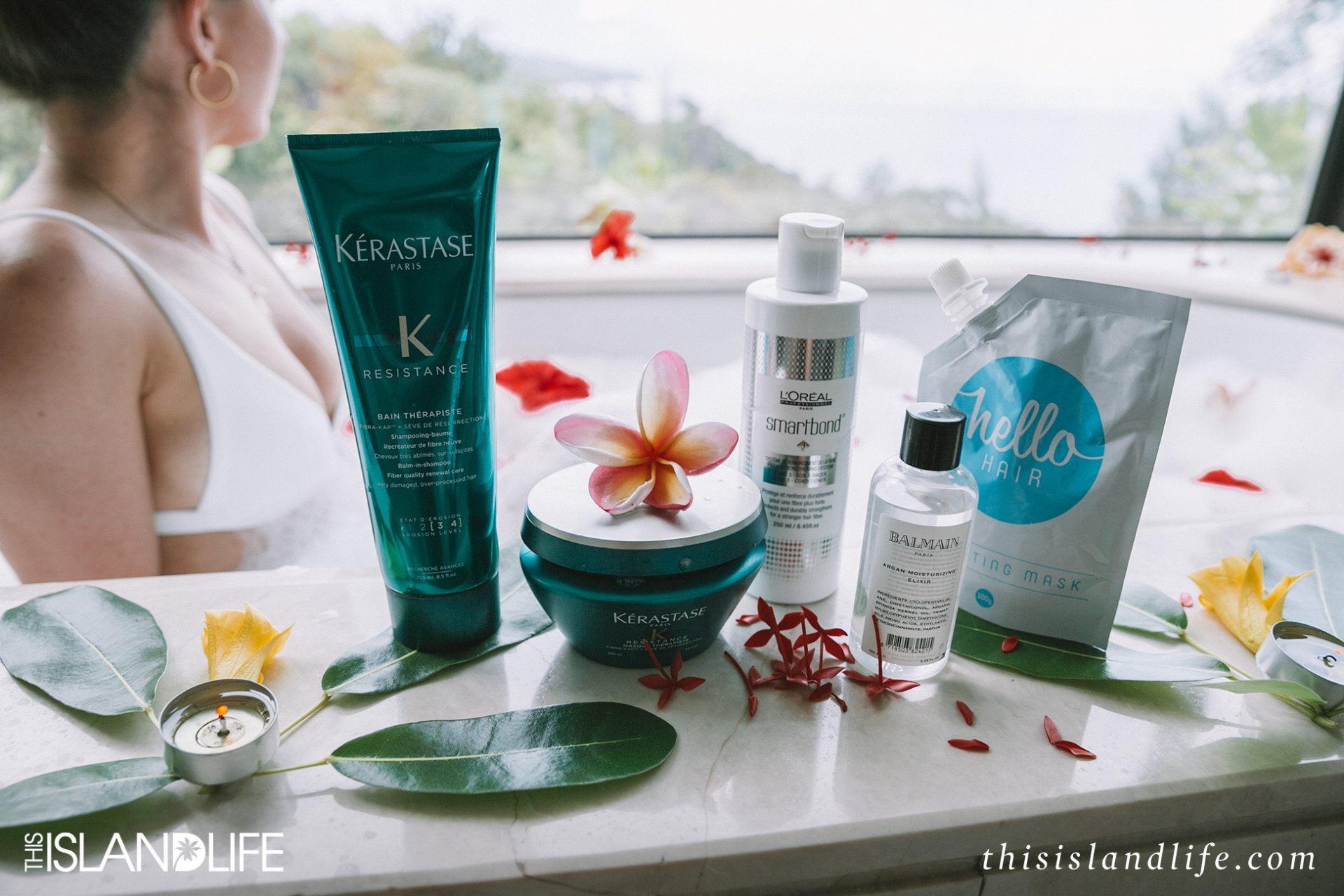 Five products for damaged and over-bleached hair:
While Kérastase products have a great reputation, I was sceptical that any product could turn around this level of damage. My new hairdresser recommended the Bain Thérapiste range, and boy am I glad he did. The shampoo is specifically designed for very damaged, over-processed hair and even after one wash, my hair felt noticeably softer and smoother. And that's saying a lot when the starting point is hair that feels like straw. It's the first shampoo with a unique jellified texture that repairs the hair fibre while gently cleansing. It basically feels like the most luxurious shampoo around, and while it lathers, it feels more creamy than soapy.
This masque from the Bain Thérapiste range is one of the best at-home conditioning treatments you can do for your hair. I've been using this masque once a week (every second time I wash my hair), and sleeping with it in overnight. Just like the shampoo from the range, this masque is designed to repair very damaged, over-processed hair. It works by rebuilding hair fibre with Fibra-Kaps, a complex designed to compensate for KAP loss. The compound combines a gluco-peptide, a wheat protein derivative, and 6 amino acids that attach themselves to damaged hair and activate KAP synthesis, restoring uniformity and smoothness.
Made by French fashion house Balmain, this Argan Moisturising Elixir is as luxurious as products come. I've used Argan oils before, but was never really impressed. It always felt like the oil was sitting on top of the hair, making my hair feel greasy, rather than moisturised. This oil is the exact opposite. It soaks into your hair to create lustrous-looking shine, and gives your hair a smooth and healthy look without oily residue. I use this oil before I wash my hair (it reduces the drying time of your hair), on damp hair (after washing), and on dry hair throughout the day (I always carry it in my bag). This oil also has an amazing summer fragrance that is super feminine and sultry.
After seeing these amazing hair masks on Instagram, I was keen to give this product a go. What I love about this mask, is that all the ingredients are natural with the key ingredient being coconut oil. I use this mask while I'm travelling – so if I'm washing my hair in the morning and then going straight to the beach, I'll pop this treatment in and let it work its magic throughout the day. It stops my hair drying out while I'm at the beach and in the sun, and you'll smell like coconut all day long.
Similar to Olaplex, L'Oréal Professional Smartbond is an in-salon treatment that protects and strengthens hair during the colouring and/or lightening process. And just like Olaplex, they have a at-home conditioner that you can use to strengthen your hair in between salon appointments. I used to use Olaplex Step 3 religiously, but my new hairdresser is a L'Oréal ambassador, so he uses L'Oréal Professional Smartbond at his salon. Olaplaex and Smartbond work in different ways. The Olaplex system rebuilds the damaged disulfide bonds (the stuff that gives your hair elasticity) that are broken during the chemical process. Whereas Smartbond adds malic acid to the colour and absorbs into the hair shaft during the chemical process – it acts as a lubricant between protein chains to make hair not as brittle and to give it more elasticity. Having used both, I find that the L'Oréal Professional Smartbond makes my hair feel silkier. Plus, you only need to leave it in for three minutes, so you can use it like a regular conditioner.
TIL Tip:
As well as these five hair changing products, I also replaced my old Evo hairbrushes with new ones, bought super soft hair elastics, switched to silk pillow cases, and started using old cotton t-shirts to dry my hair.
SHOP THE POST:

SaveSave
SaveSave
SaveSave
SaveSave
SaveSave
SaveSave