On a rainy day in El Nido we headed up a steep rickety bamboo staircase in the Philippines jungle to zipline over Las Cabanas Beach. The zipline at Las Cabanas Beach in El Nido is not your regular tourist attraction – this is island hopping by zipline. After passing a few snakes on the way up, I was already scared and we hadn't even reached the zipline. Then I saw the zipline platform at the top – a bamboo structure that looked like it would never pass Australia safety standards with a hectic drop and a 750-meter zipline across the ocean to Depeldet Island. I'm not going to lie, I was freaking out. But as soon as the zipline guys started attaching our equipment, I was reassured.
While the set-up may look super relaxed, these guys test out your harness on the platform to make sure it's secure, and follow all proper safety requirements like giving you a helmet and making sure you're wearing secure footwear. While I've ziplined before in beautiful destinations like Hawaii and Thailand, this zipline is hands down the most picturesque I've ever seen. Never before have I experienced island-to-island ziplining where you can fly superman-style across a spectacular coconut palm-fringed beach.
This was my first time zipping in the superman position and I couldn't think of a better location to do it in. Jason and I went at the same time, but  as you will see in the video below, the heavier you are the faster you go – so I got smoked! While Jason flew smoothly across to Depeldet Island, it was so windy that I actually came to a halt right above the ocean. Before I had time to get worried, one of the zipline guys was quickly on the line, making his way out to pull me in. Jason was watching the whole thing unfold from the platform on Depeldet Island and was worried I was freaking out. But I was actually super chilled – it was an incredible view and I had it all to myself out there. It took about five minutes for the zipline guy to reach me and after a few accidental feet to my face and lots of laughs, I was on my way back in.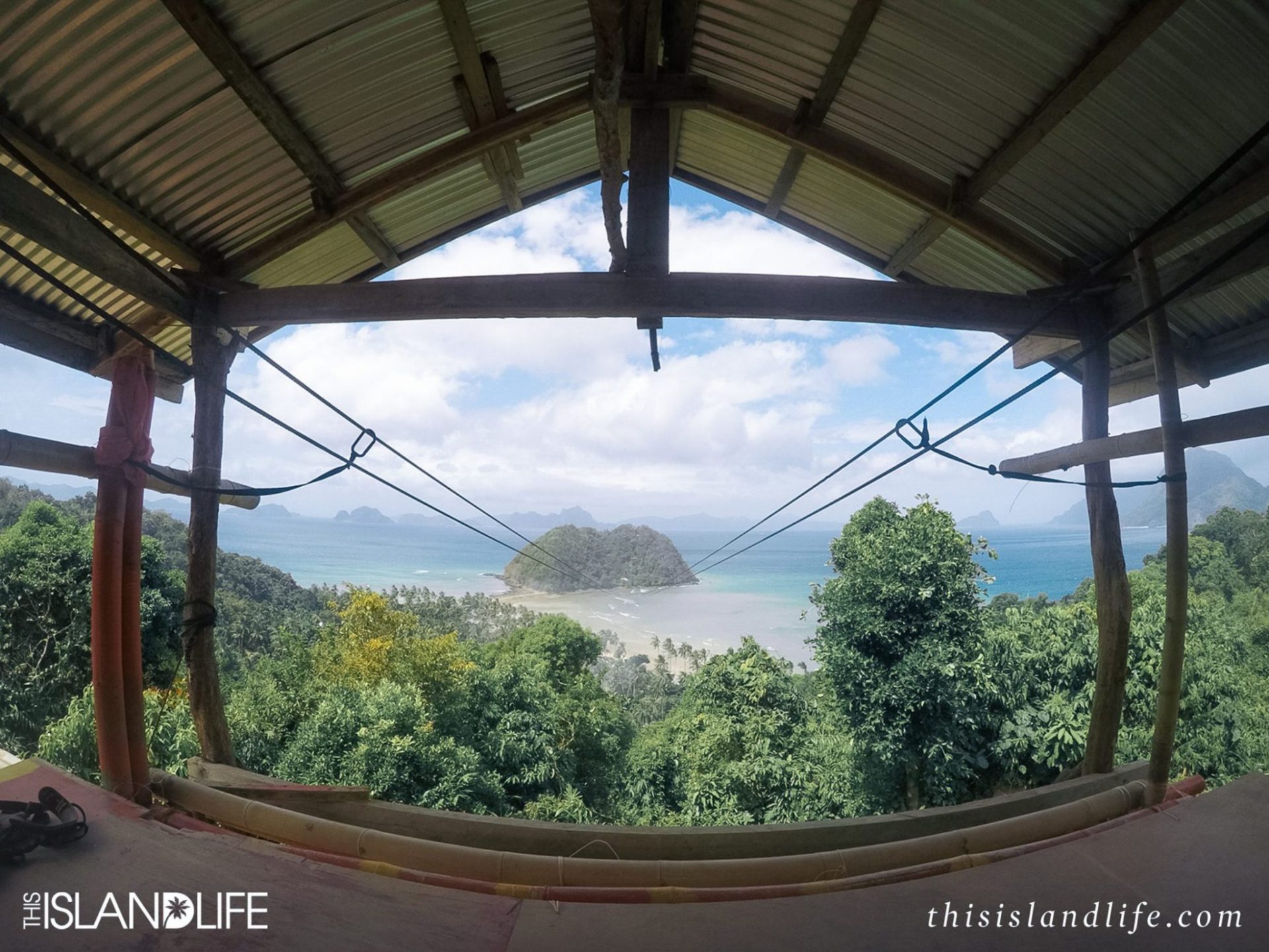 A big thanks to GoPro Australia for kitting me out so I could capture this epic island hopping adventure.
TIL Tip:
Las Cabanas Beach is famous for its spectacular sunsets, so time your zipline adventure to take in the incredible sunset as you zip through the sky. The zipline is open until 5:30pm, so aim to get there just before it closes and then debrief over dinner and drinks on the sand below.
The details:
Ziplining at Las Cabanas Beach will cost you between 500 to 1,100 PHP (approx. AUD$13-AUD$30). We did the superman position one way, which was 700 PHP (approx. AUD$19) and then walked back to where we were staying on Las Cabanas Beach across the sand bar that joins the two islands, but you can also zipline back. You can choose between these options:
Sitting position – one way – 500PHP
Sitting position – return – 900PHP
Superman position – one way – 700PHP
Superman position – return – 1100PHP
Combination of both positions – return – 1000PHP
The zipline is open 9am- 5:30pm.
How to get Las Cabanas Beach:
To get to Las Cabanas Beach from El Nido town, just jump in a tricycle. Expect to pay around 150 pesos which is about AUD$4 – the trip will take you around 10 to 15 minutes. Otherwise, hire a scooter and make your own way there – just take the road that follows the coastline north from El Nido town. Or do what we did and stay on Las Cabanas Beach. Philippines camera kit courtesy of Canon Australia and GoPro Australia:
Cameras: Canon EOS 5D Mark III , Canon EOS 70D and the GoPro HERO4 Silver Edition.
Lenses: Canon EF 50mm f/1.4 USM and Canon EF-S 10-18mm f/4.5-5.6 IS STM.
SaveSave SaveSave
SaveSave
SaveSave