Scattered along the western coastline of Greece lies the beautiful Ionian Islands. These are my favourite islands in all of Greece, and it's not just because it's my ancestral homeland. My maternal grandparents are both from the island of Ithaca, but it's more than just my family connection that draws me to these islands. There's something really authentic about the Ionians. There are no beach clubs, no designer shops, no big resorts, and no tourist crowds. Everything moves at a slower pace and that's what I love about island life. The Ionian Islands also have some of the clearest, most aqua water in all of Greece. And unlike some of the other island groups in Greece which are more dry and volcanic, the Ionian Islands are famous for their lush greenery – there are rolling green hills in every direction.
So to help get you inspired to visit the Ionian Islands, here are my top three beaches from this dream island destination:
1. MYRTOS BEACH, KEFALONIA – IONIAN ISLANDS, GREECE
Located on the north-west of Kefalonia, Myrtos is dramatically positioned between the feet of two mountains, Agia Dynati and Kalon Oros. Myrtos Beach is so beautiful, it's constantly listed in travel publications as one of the top 30 beaches in the world. With its electric blue waters, white pebbled beach and spectacular cliffs, it's not hard to see why.
We spent a day here before heading up north, but I loved it so much we ended up coming back a few days later for another sunset and more beach time. The water is incredible clear and the brightest shade of aqua – these photos have hardly been edited but we did have the perfect light for the shots we took where I'm wearing a nude bikini on the beach. Sometimes the best colours come out on overcast days. I thought this particular day was a write-off for photos – there were so many clouds! But the cloud cover acted as a natural diffuser – so when the sun peeked out from behind the clouds – the water illuminated to an iridescent shade of aqua that I hadn't seen on the most picture perfect sunny days. Read more.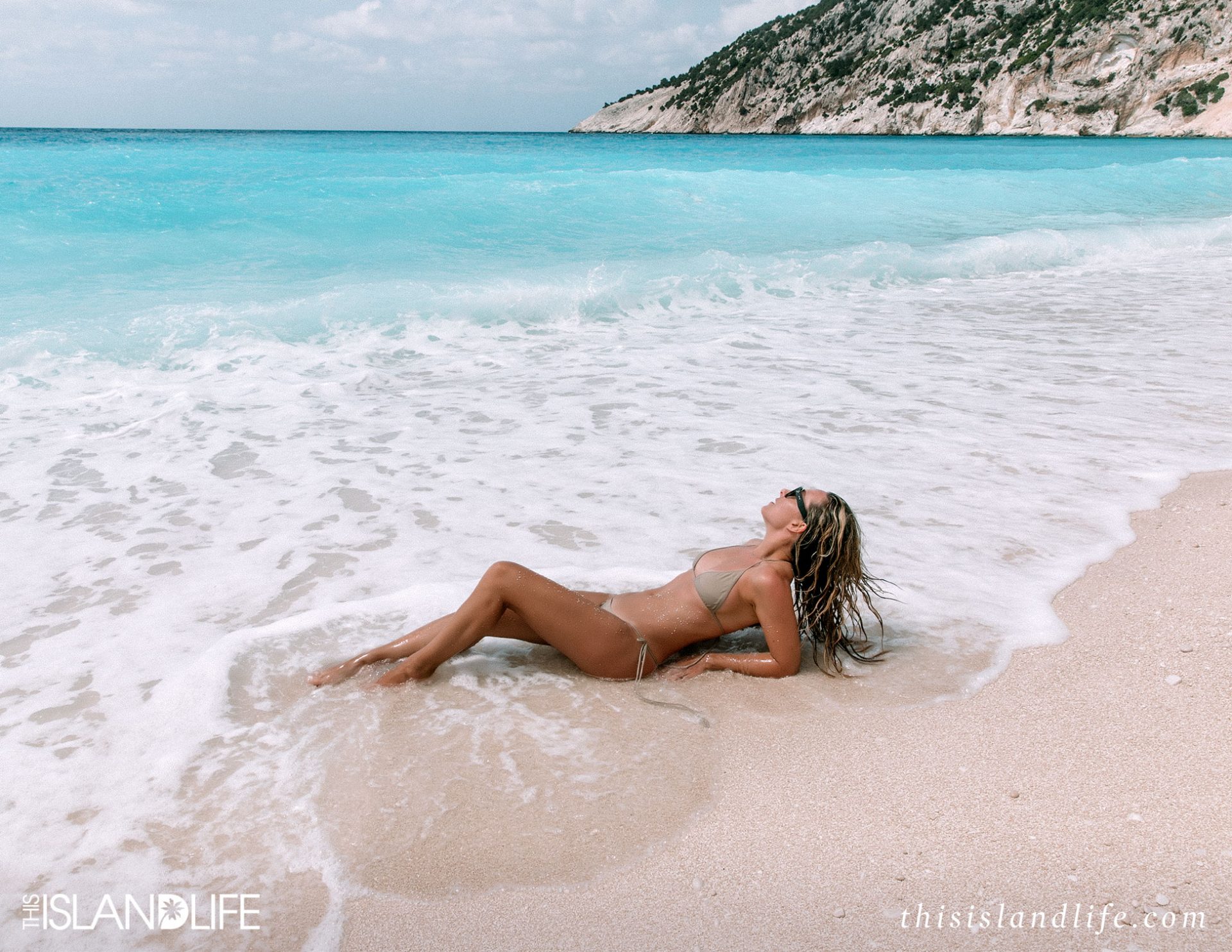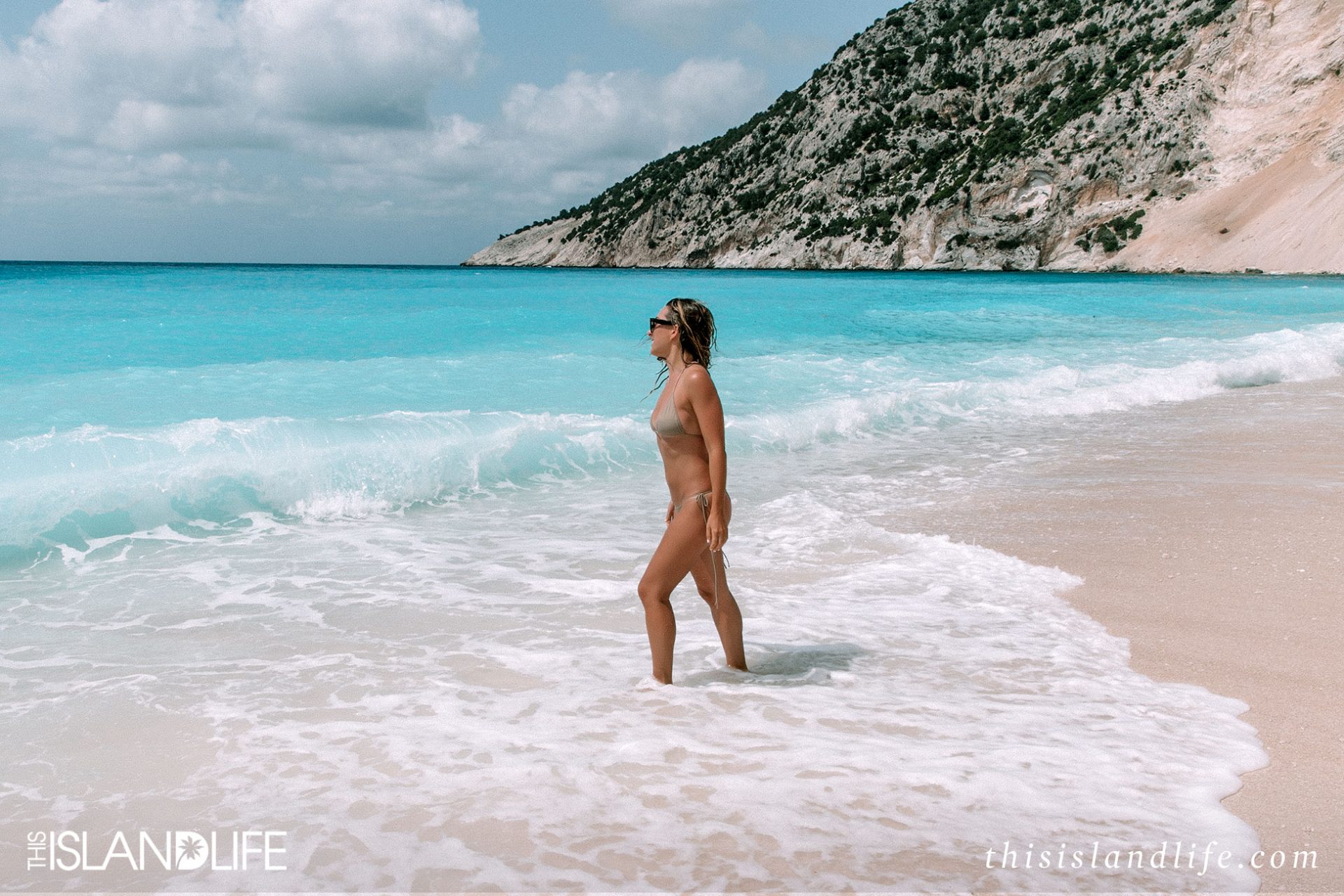 2. SHIPWRECK BEACH (NAVAGIO), ZAKYNTHOS – IONIAN ISLANDS, GREECE
You've probably seen this beach on Instagram before, but from the view point at the top of the cliffs. While it's beautiful and the water is an iridescent aqua, it was hectic busy the morning we visited! If you've been island hopping in Thailand, you'll know what I mean when I say it's Phi Phi Island in peak season tourist levels busy. Day cruise boats were pulling in every few minutes with hundreds of fellow tourists descending onto the shore. Photos and selfies were going on everywhere – I literally couldn't walk more than a metre without accidentally photo-bombing someone's shot. Despite the crowds, the beach and its shipwreck are still an incredible sight to see from the sand and sea – a totally different experience to seeing it from the cliffs above. Read more.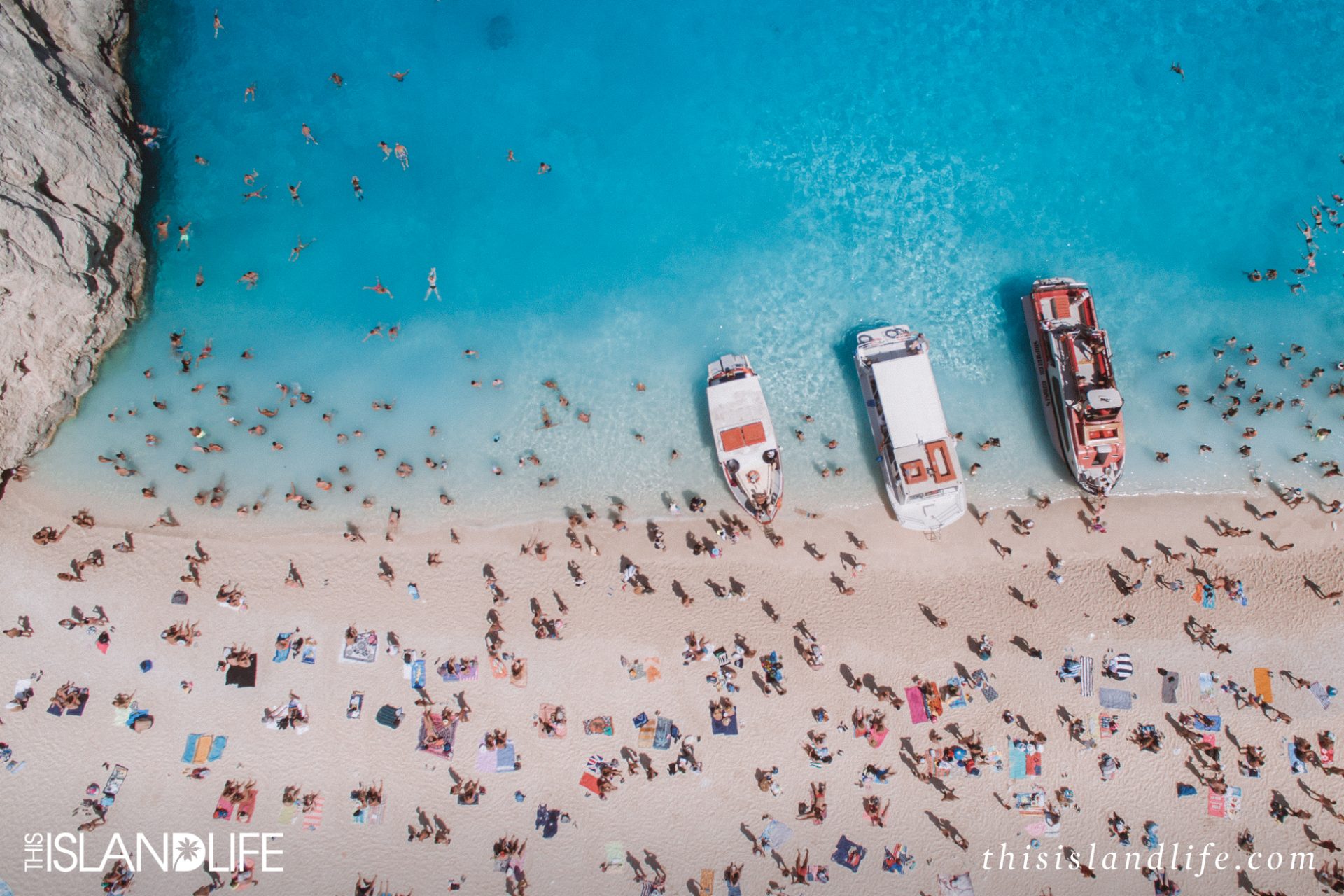 3. PIRATES BAY, ITHACA – IONIAN ISLANDS, GREECE
I'm not sure if this beach is actually called 'Pirates Bay' – we stumbled across this deserted beach one day while out on our little boat. We thought it was totally undiscovered until a huge day cruise boat pulled up next to us and hundreds of tourists jumped into the ocean surrounding our boat. The captain was making the most of his loudspeaker and announced that this was 'Pirates Bay' and that it was two for one happy hour at the bar!
The Ionian Islands hold a special place in my heart. I'm half Greek – my maternal grandparents are both from Ithaca and my great grandparents on my grandfather's side were from an even smaller neighbouring island called Meganisi. This trip was my first time to Greece – I just couldn't go another year without seeing my family's home island. I've spent my whole life hearing about Ithaca, so to be there jumping into the salty sea for the first time off its coast was a moment I won't forget. Read more.