On the exotic Praslin Island in the Seychelles, perched high on a hillside overlooking the Indian Ocean sits Raffles Seychelles. If I could choose one resort to live at for the rest of my life, Raffles Seychelles would be my first choice. This incredible 5-star property is the pinnacle of island luxury.
It's got the mix of island life vibes, and prestige hotel luxury just right. When you're in residence with Raffles, you're in a whole other realm of tropical oasis. On our first morning we took our breakfast outside where we watched guests chopper in on the resorts private helicopter, while sipping on Champagne, with views of the ocean and the resort's Aldabra tortoises.
THE ACCOMMODATION
The resort boasts 86 private pool villas that are scattered out along the hillside. The villas are some of the biggest in the Seychelles (at a minimum of 125 m²) and have been designed to showcase the dreamy island landscape. The spacious, light-filled bedrooms face the ocean with views of the lush tropical jungle and Anse Takamaka bay.
There's a strategically placed bath with tub to ceiling windows where I spent many relaxing hours soaking up the epic views. Along with the luxurious private infinity pool outside, there's also a pavilion for alfresco lounging and a terrace with sunbeds where you can soak up the sun.  If this all sounds too good to leave, the good news is that you don't have to. With a butler service and an extensive in-room dining menu, you can lay low at your villa for as long as you like.
THE GROUNDS
While you can walk around the resort, the sloping grounds of the resort total roughly 850m² and are pretty spread out. So it's just as well Raffles offer a round-the-clock buggy service. The resort has drivers on hand to take you to your next meal, swim or day spa session.
THE BEACH
Raffles Seychelles have their own private beach, and it is absolute paradise. While I loved having a private plunge pool at the villa, nothing beats clear saltwater and powdery white sand. The private beach not huge, but we were there in peak season and there was never more than a handful of people there. The resort forms part a Marine Park, so you can snorkel straight off the beach. On our first day at Raffles, we headed down to the beach just before sunset for a magical golden hour.

THE RESTAURANTS AND BARS
Up until now, my all-time favourite hotel buffet breakfast was Lebua at State Tower in Bangkok. But after experiencing this epic tropical breakfast at Raffles Seychelles, I have a new number one. Along with the regular egg, noodle, pancake and pastry stations, they have the most incredible spread of tropical fruit, fresh juices and iced teas. There's also a Bloody Mary and Champagne station, and locally caught fish like tuna and mackerel which had been smoked to perfection.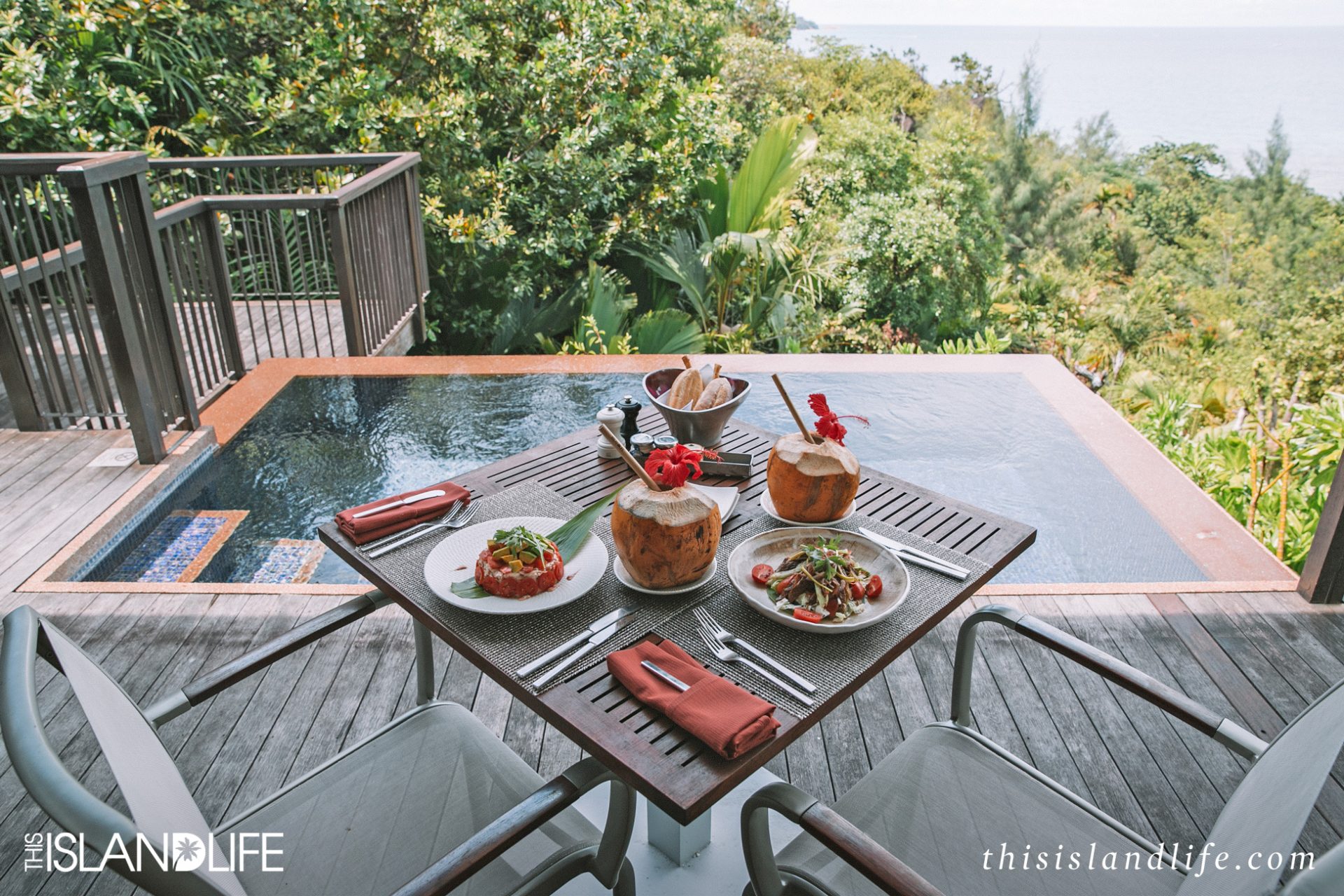 THE LOCATION
Located on the east coast of Praslin Island, Raffles is the perfect base for exploring some of the island's most popular sites. It's just minutes from the world famous Anse Lazio Beach and the incredible UNESCO Vallée de Mai – a forest of gigantic ancient palms that looks like it's straight out of Jurassic Park. Curieuse Island and its giant Aldabra tortoises are also just a short 10 minute taxi boat ride from Raffles Seychelles.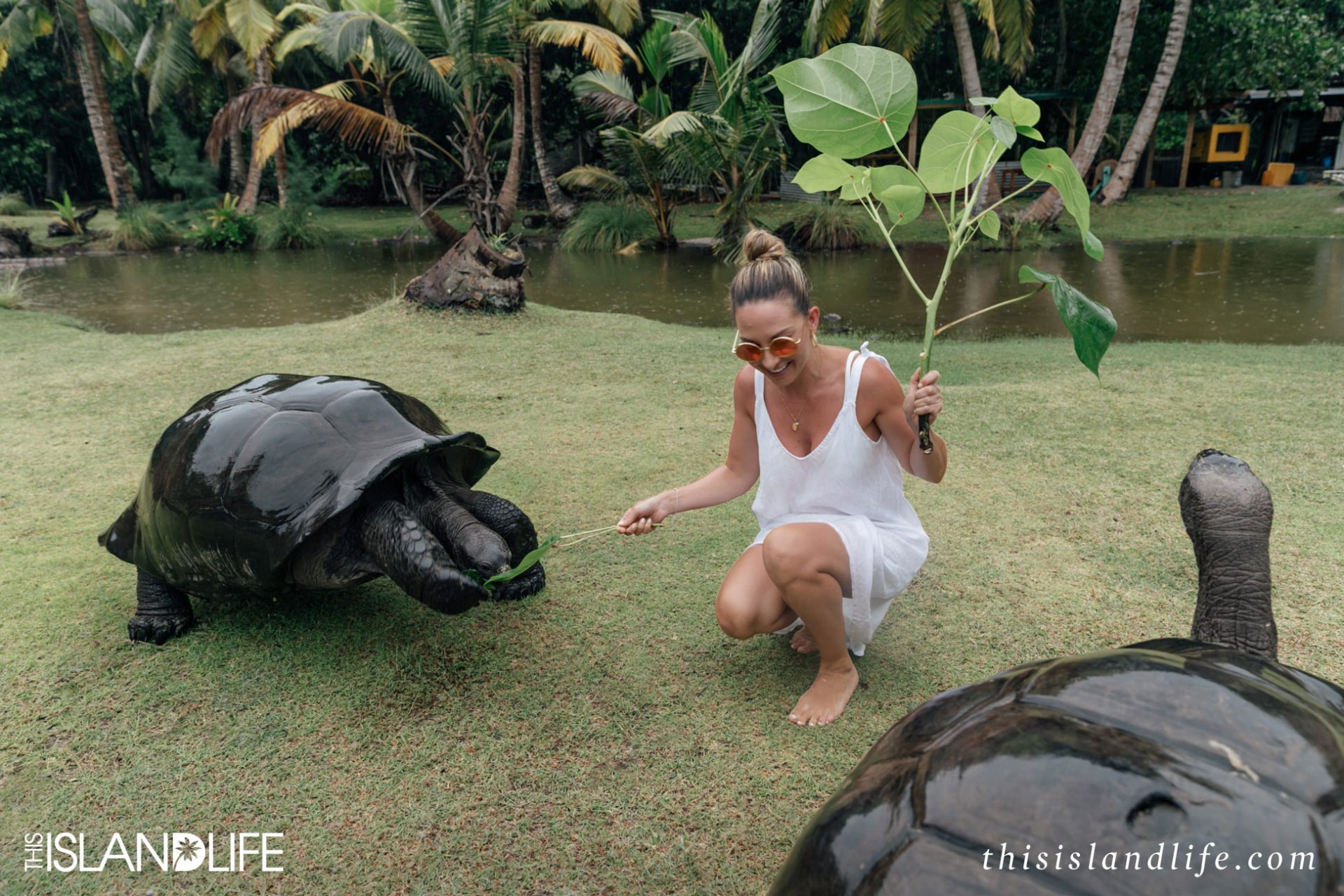 HOW TO GET TO RAFFLES SEYCHELLES:
Getting to Raffles Seychelles is all part of the adventure. We took a ferry to Praslin from Mahé and then had our car rental guy meet us at the ferry terminal with our car. There are a range of different ways to arrive at Raffles Seychelles (in order of most luxurious):
Helicopter: Private Helicopter operated by Zil Air: a 15-minute flight from Mahé to Raffles Seychelles' Helipad.
Plane: Shuttle Plane operated by Air Seychelles or a private plane operated by Zil Air: a 15-minute ride from Mahé to Praslin Airport, followed by a 30-minute drive to the resort.
Boat: Private boat transfers can be arranged from Mahé Jetty to Praslin jetty, followed by a 20-minute drive to the resort or from Mahé Jetty to Anse Takamaka Beach at Raffles Seychelles (depending on boat)
Ferry: Sea Ferry operated by Cat Cocos: a 60-minute ride from Mahé Jetty to Praslin, Jetty followed by a 20-minute drive to the resort.
More details here.