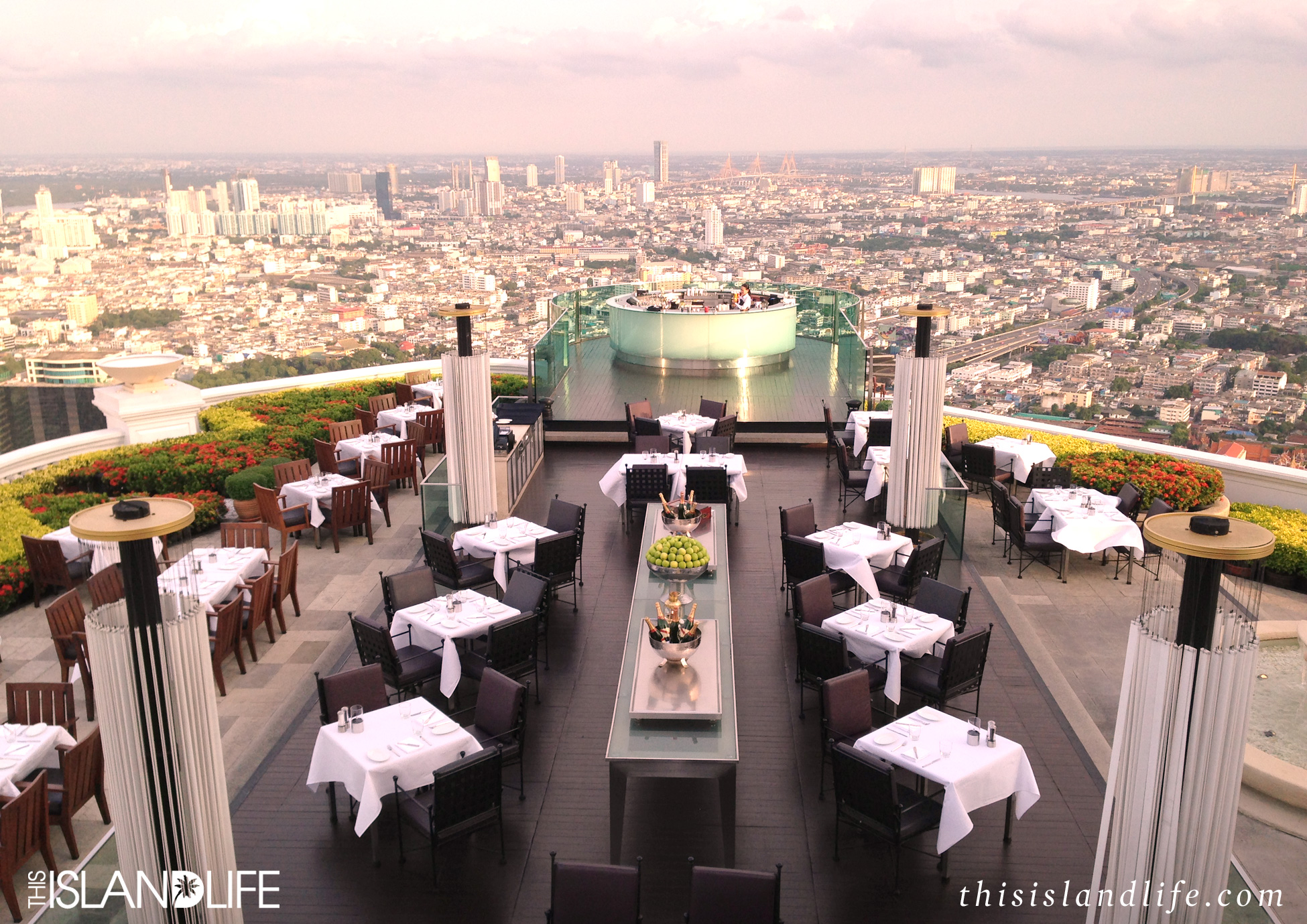 Perched high on the edge of a skyscraper in Bangkok, Thailand is one of the city's most famous rooftop bars. Located on the 63rd floor of the State Tower, Sky Bar offers epic panoramic views over Bangkok and Chao Phrayariver. While they didn't get creative with the name, they certainly did with the architecture. Greco-Roman influenced design dominates the landscape, with the pièce de résistance being a huge gold-pillared dome that lights up as the sun goes down. If you've seen the Hangover 2, you'll know where I'm talking about. Part of the movie was filmed there and since then it's become quite the scene. It's pretty over the top, but it's also pretty cool.
State Tower is home to a hotel called Lebua and bunch of bars and restaurants that all fall under different names – it can get a bit confusing when trying to plan a night out, so here's a little run down. The Dome is what they call their entire rooftop section of bars and restaurants – it's spread out over a bunch of levels and is where Sirocco, Mezzaluna, Breeze, Sky Bar, Distil, and Ocean 52 all are.
Sirocco is the alfresco restaurant on the 63rd floor that surrounds Sky Bar – they are the two most expensive venues at The Dome (and possibly in Bangkok). A standard drink will set you back around AUS$15 and I've heard of couples spending around the one grand mark for dinner and drinks.
A few floors down is a restaurant called Breeze which many of the guys who run Lebua actually prefer to Sirocco. I've never eaten at Sirocco (due to budget restrictions), but Breeze is more reasonably priced and the views are still pretty spectacular. There are tables inside and outside, and the bartenders at Ocean 52 mix up a pretty awesome Espresso Martini.
If you don't have an unlimited budget and want to have a night out at The Dome, the best way to do it would be sunset cocktails at Sky Bar and then dinner at Breeze. Last time we were there we had drinks at Ocean 52 and then headed to Khao San Road for dinner. What followed was a crazy night of tuk tuk adventures and super seedy club hopping, because sometimes you need to balance rooftop luxury with street-level grittiness. But more about that later…
Where: Lebua at State Tower | 1055 Silom Road, Bangrak, Bangkok Thailand | (66) 2624-9999