One of my favourite days in El Nido on Palawan Island in the Philippines was cruising into Nacpan Beach on our little scooter. As much as I love, love, love island hopping days where I'm out on a boat with my snorkel and fins permanently attached, this was the first day I felt truly relaxed. We'd already ticked off all the shots I needed for my stories and social posts, so we had no early morning wake up calls and nowhere we had to be. It was just us, a sweet little scooter and picture perfect weather.
The 17 kilometre ride north from El Nido town was bumpy, but the closer we got to Nacpan Beach, the more beautiful the passing landscape became. Palm trees lined the sandy dirt roads and even the car park at Nacpan Beach looked like paradise.
Nacpan Beach is one of the most beautiful stretches of sand in the Philippines. With four kilometres of soft cream-coloured sand, swaying coconut palms, a fishing village, clear aqua water and small surfable waves, it's the kind of place you'd see if you closed your eyes and imagined paradise. We're not the only ones who think so – Trip Advisor users recently voted Nacpan Beach the 10th most beautiful beach in the world.
Nacpan Beach is one-half of the famous 'Twin Beaches' (the other being Calitang Beach) – it's where rustic palm-thatched huts line the beach with local restaurants serving up fresh seafood.
Walk to the southern end of the beach, past the tiny fishing village and you'll reach the point where Nacpan Beach merges with the smaller Calitang Beach. There's a lush green hill that you can walk up that will give you a spectacular view of both beaches. As we hiked up the hill to get a better look, we amassed an entourage of local kids from the village who took photos of the landscape alongside us on a little mobile phone that they all seemed to share.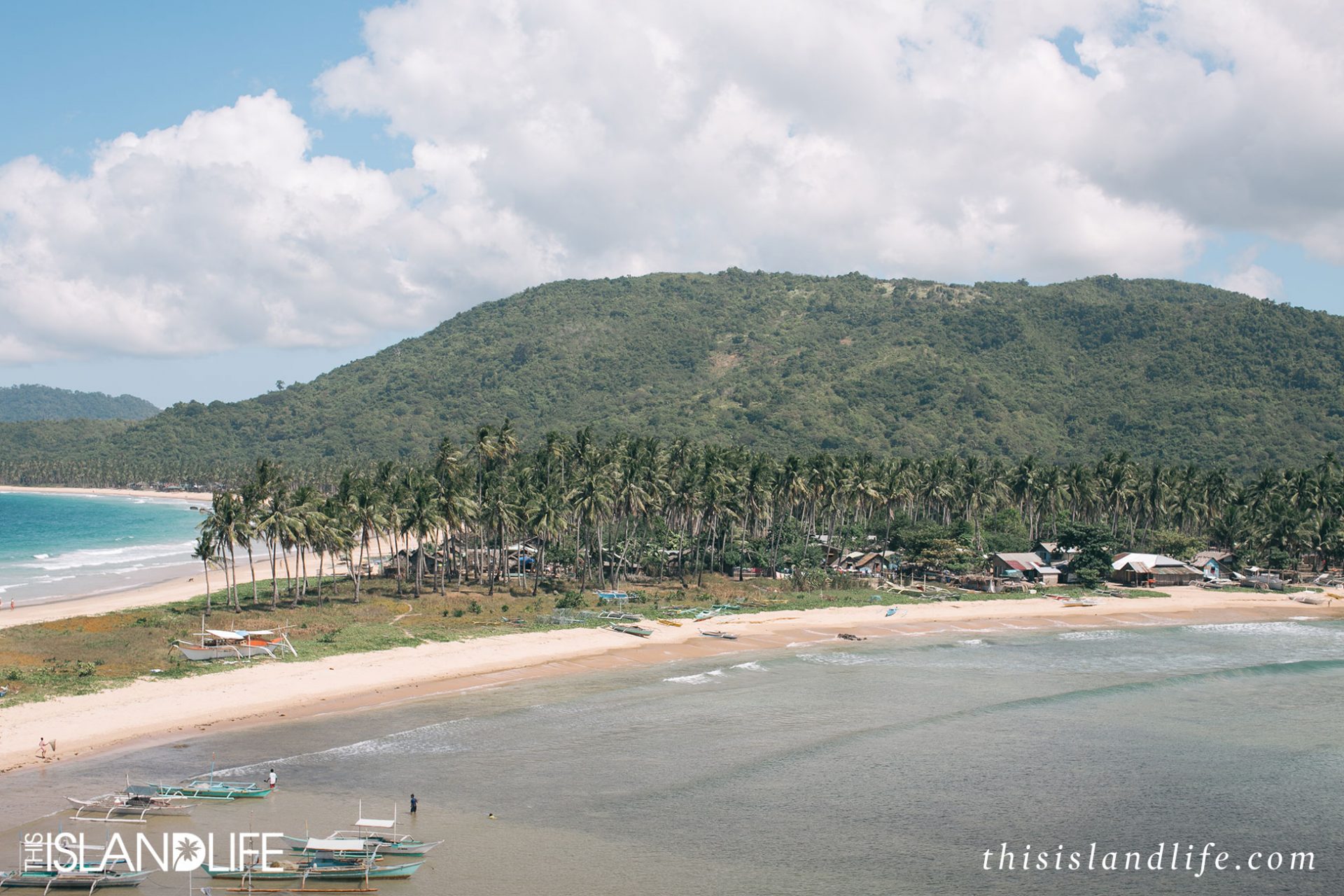 If you're in El Nido island hopping, make sure you spend some time on the mainland (Palawan Island) to experience Nacpan Beach. Even if you only have a morning or an afternoon to spare, it truly is one of the most beautiful beaches in the Philippines. While we weren't able to stay until the sun went down, Nacpan's sunsets are known for being absolutely spectacular – we'll definitely be prioritising sundowners on the sand on our next trip to the Philippines.
How to get there:
There are tours that go to the 'Twin Beaches', but unless you like having a time limit on paradise, we recommend getting your own way there and back. We were staying at Las Cabanas Beach and hired a scooter there that we rode to Nacpan Beach. You can also hire a tricycle and driver to take you there. It took us almost an hour to get there by scooter as we were a little further out at Las Cabanas Beach – if you're leaving from El Nido town it should only take around 45 minutes. If you're going by tricycle, allow an hour to 90 minutes.
Philippines camera kit courtesy of Canon Australia and GoPro Australia:
Cameras: Canon EOS 5D Mark III , Canon EOS 70D and the GoPro HERO4 Silver Edition.
Lenses: Canon EF 50mm f/1.4 USM and Canon EF-S 10-18mm f/4.5-5.6 IS STM.
SaveSave
SaveSave