On a dark and stormy day in 1980, the infamous MV Panagiotis – a freight-liner making its way from Turkey, ran aground on Navagio Beach on the Greek island of Zakynthos. According to local legend, the ship was smuggling contraband cigarettes, wine and women and was being chased by the Greek Navy. If that doesn't sound enough like the synopsis of an action film, some versions of the story even claim that the freight of contraband was intended for the Italian Mafia. With Navagio Beach becoming its final resting place, the beach is now more famous for its nicknames `Shipwreck Beach' and 'Smugglers Cove'.
Navagio Beach is one of the busiest beaches in the Ionian Islands. We visited on a day cruise while we were staying on the neighbouring island of Kefalonia and it was extremely busy. If you've been island hopping in Thailand, you'll know what I mean when I say it's Phi Phi Island in peak season tourist levels busy. Day cruise boats were pulling in every few minutes with hundreds of fellow tourists descending onto the shore. Photos and selfies were going on everywhere – I literally couldn't walk more than a metre without accidentally photobombing someone's shot.
You've probably seen this beach on Instagram before, but from the view point at the top of the cliffs. The best way to access that view point is if you're staying on Zakynthos – if you're visiting on a day cruise, you'll only have access to the beach. But what a beach it is –  with white pebbly sand and iridescent aqua water, it's one of the most spectacular beaches I've ever set foot on.
If you want to shoot the shipwreck in full sun, make sure you visit the beach in the afternoon. We took these shots between 10am-11:30am in June and as you can see in the full shot of the shipwreck that I took from the boat as we were leaving, the sun had only just started to illuminate the rusty wreck.
Despite the crowds, the beach and its shipwreck are still an incredible sight to see from the sand and sea – a totally different experience to seeing it from above. If you're island hopping around the Ionian Islands in Greece, make sure you put this incredible shipwreck on your itinerary.
HOW TO GET TO NAVAGIO (SHIPWRECK) BEACH:
Navagio Beach is only accessible by boat. We visited Navagio Beach on a day trip from Skala Beach on the neighbouring island of Kefalonia that also included a tour of Zakynthos' famous Blue Caves. If you're staying on Zakynthos, you can get a boat from Porto Vromi, the harbour of Saint Nikolas in Volimes or from the island's capital city of Zakynthos. Details here.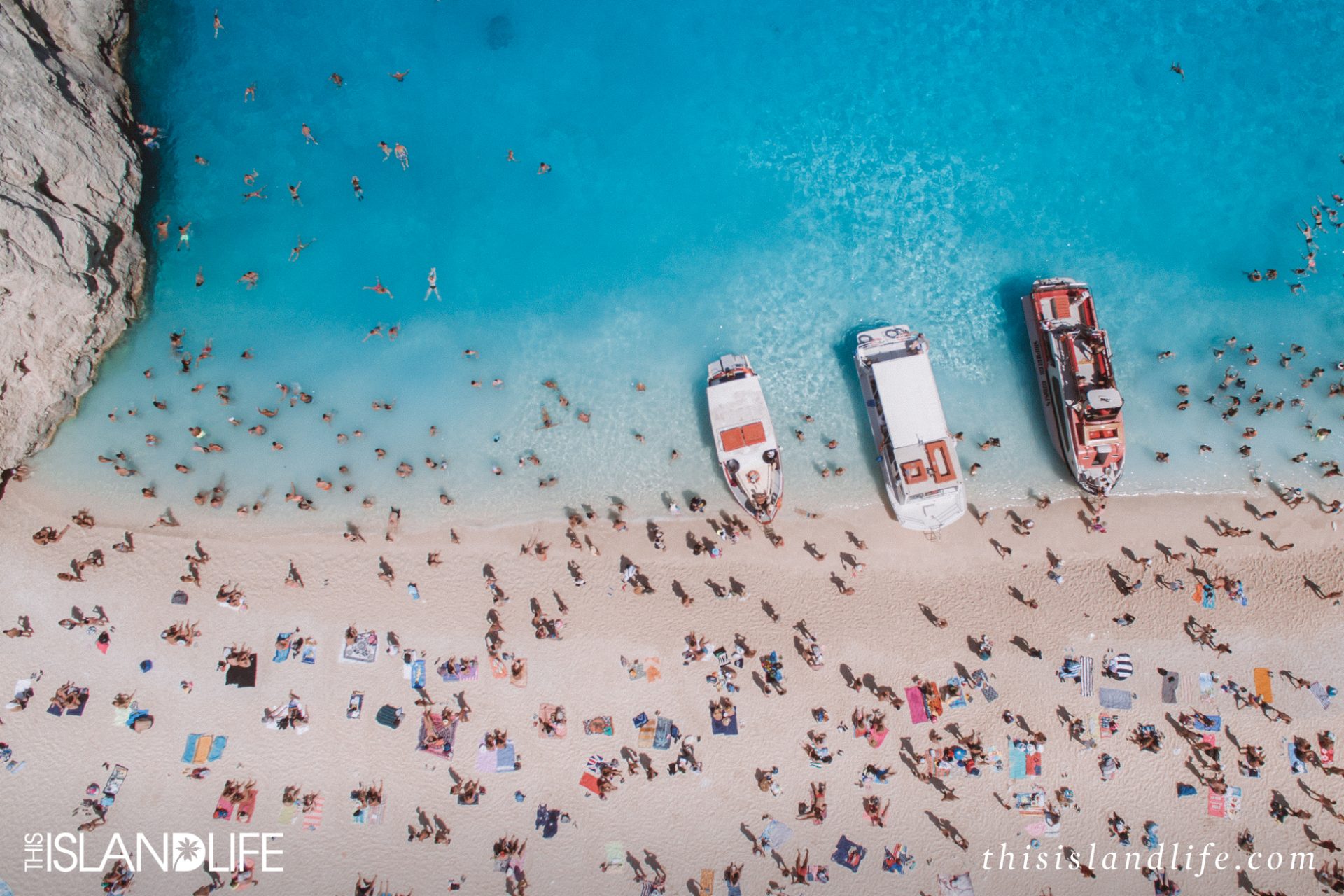 SaveSave
SaveSaveSaveSave
SaveSave
SaveSave
SaveSave
SaveSave
SaveSave
SaveSave
SaveSaveSaveSave
SaveSave
SaveSave